If you are searching for the best schools for Pakistan's kids, you are on the right article. This article lists the essential elements to see while choosing the best school for children in Pakistan.   
Importance of Education 
Critical thinking is developed through education. This is essential for instructing someone on how to make decisions and communicate with others logically (e.g., boosting creativity and enhancing time management). An individual's education helps them meet the requirements for entry-level jobs and increases their likelihood of getting better jobs.  
Education System in Pakistan 
Education in Pakistan is diverse and has many variants. There are different mediums of education running side-by-side in the country. On the one hand, we have an Urdu medium education system; on the other, we have an English medium of studies within formal school education. Then we have non-formal education institutions inform of madras and house education.   
Formal Education 
The formal education system has a hierarchy of primary, secondary, tertiary, and quaternary. Schools provide primary education. Students appear in the board examination for the ninth and tenth school education classes.  
School Systems in Pakistan 
English Medium 
English is a compulsory subject in Pakistan's Urdu and English-medium educational systems. The government governs the majority of Urdu-medium schools, and English is a subject there. In contrast, English is a subject and the language of instruction in English-medium schools, which some private associations and ministers govern.  
Factors Defining Quality of Schools  
Quality Education 
School education is the only source of formal education around the world. Apart from that, parents teach their kids through home-schooling and madrasa set-up. However, the latest formal education is helpful in career development. School enrolment is necessary to develop 21st-century skills in children to help them move confidently and successfully in the world.   
Due to all this dependency, choosing a school for children that offers quality education is vital. The importance of quality education increases in Pakistan due to its competition with the world.   
Quality traits in education include the child's ability to learn, understand, and act according to the circumstances with knowing languages, calculations, and the latest digital tools to produce better output and results.  
Supportive and Safe Environment 
The concept of quality education is incomplete without a supportive and safer environment for kids. Quality education's primary goal is for children to feel happy, secure, and contented. Because when children feel safe, they perform better. In addition, it is the fundamental right of every being to feel safe.  
Suppose the child has no one to support them in school. What would be the result? Eventually, He will lose interest in school, and God forbids him to try to run away from the school if he is unheard at home. Therefore, choosing a disciplined, supportive school with a good environment is ideal.   
Effective Teaching Approach 
Another principal element of the best school for children in Pakistan is to look out for the teaching approach practised in the school. We are living in the most advanced century to date. Therefore, it is crucial to change the traditional teaching methods. Implementing the latest and proven teaching methodologies with aided tools is also essential.   
Development of Skills and Expertise 
Meeting the purpose of education defines the level of education in the schools. Developing skills of the twenty-first century is a one-line success story explaining quality education. In the 21st century, there are numerous skills.     
Life skills 

 

Literacy skills 

 

Learning skills 

 
Literacy Skills
The Literacy Skills include subject learning and digital literacy to handle the technology. Today, bookish knowledge is not enough. One must be skilled in handling digital gadgets, technology, and expertise to adapt them as soon as possible to become more productive, efficient, and effective. The best schools develop rich literacy skills among their students.   
Learning Skills
Learning Skills have a collection of interpersonal skills known as the ability of critical thinking, the knack for creativity, successful collaboration, and effective communication. These skills are soft skills. Their development proves why any school is the best school for kids.  
Life Skills
While life skills are counted as personal abilities to spend life with others through flexibility, leadership, productivity, social skills, and the power to initiate. Spending a successful life with the capacity to handle the negative and to enjoy the positive of it. The best schools for children never outlook this element.   
With the help of Steam education and the steam approach, the kids can learn all the necessary skills and lead a successful life in the future. STEAM education is the learning approach that is practised worldwide. 
Which institutions are providing 21st-century education? 
We have considered the top four points necessary for educating children about the challenges of the 21st century. The Step Schools provide STEAM education and focus on 21st-century skills development for the best future generations.   
The promising features of Step Schools are as under.  
STEAM LEARNING
Step Schools offer STEAM education for its students. Steam education approach is the collection of subjects – Science, Technology, Engineering, Arts and Mathematics. A wide array of advanced subjects like robotics, computers, coding, and AI are included in the course curriculum at an early stage.   
Due to this, students get exposure to a variety of subjects early in life. This proves to help connect and indulge in the subject, which is of interest. The students, therefore, develop a clear-cut idea of their passion for pursuing their future.   
Project-Based Learning (PBL)
The Step Schools have a concept of Project-Based Learning (PBL). Project-Based Learning helps students to work on real-life issues relating to various and distinctive subjects. With this unique practice, children urge to think freely and to get creative, practical ideas with the help of collaboration and teamwork.   
Digital Portal & E-Learning
In addition, students learn through the digital mediums of e-learning, school app and assisting portals. Due to this, the students get unlimited access to their study plans and materials in addition to teachers' assistance. Hence, the digital literacy of students is well-developed.   
Extracurricular Activities
Apart from education, the extra curriculum activities are never neglected at the Step Schools. However, the classrooms and campuses are made of state-of-the-art labs and knowledge-rich libraries. This helps students to learn from the latest books, journals and reference materials.   
Student Counselling
Student counselling is also crucial to being the best school for kids in Pakistan. The proper look-after, support and assistance are available at the Step Schools for students to take the right decisions.   
Conclusion
Educational excellence, full support, digital literacy, and introduction to new subjects with proper development of critical thinking, communication, creativity and collaboration are the secret tools of success. To make a child successful in future, it is essential to choose the right way of schooling.  
Summary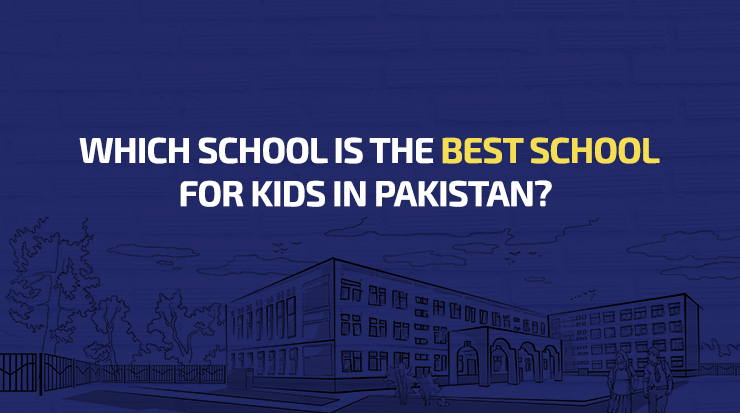 Article Name
Which school is the best school for kids in Pakistan?  
Description
Are you searching for the best school for children in Pakistan? The article includes the reasons what options are available.  
Author
Publisher Name
Publisher Logo